SHROOM MAGIC MIX
Why Choose Shroom Magic Mix?

✔ Powerful combo of 5 adaptogenic mushrooms + anti-inflammatory spices

✔ Clean, organic ingredients

✔ Only 5 calories

✔ No added sugar

✔ Versatile! Make it hot, mix it in smoothies & juices, or try it on popcorn!
Shipping & Returns

Free shipping within the United States!

Want to find out shipping prices to other countries? Check out our shipping page here.

We have a Love It Guarantee! If you don't love our product, send an email to team@mynaturesharvest.com with your order #, receive a full refund, and keep the pack! Give it to a friend to try!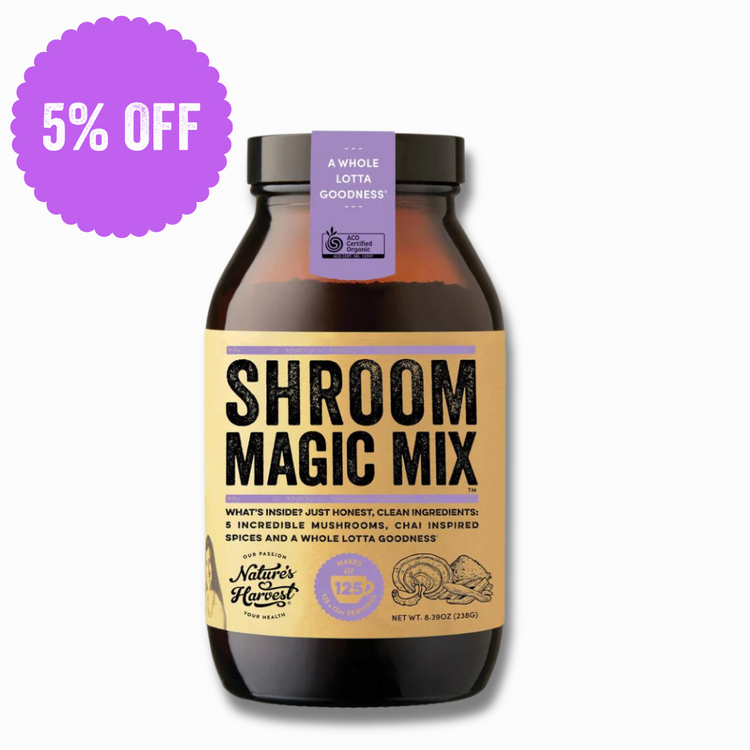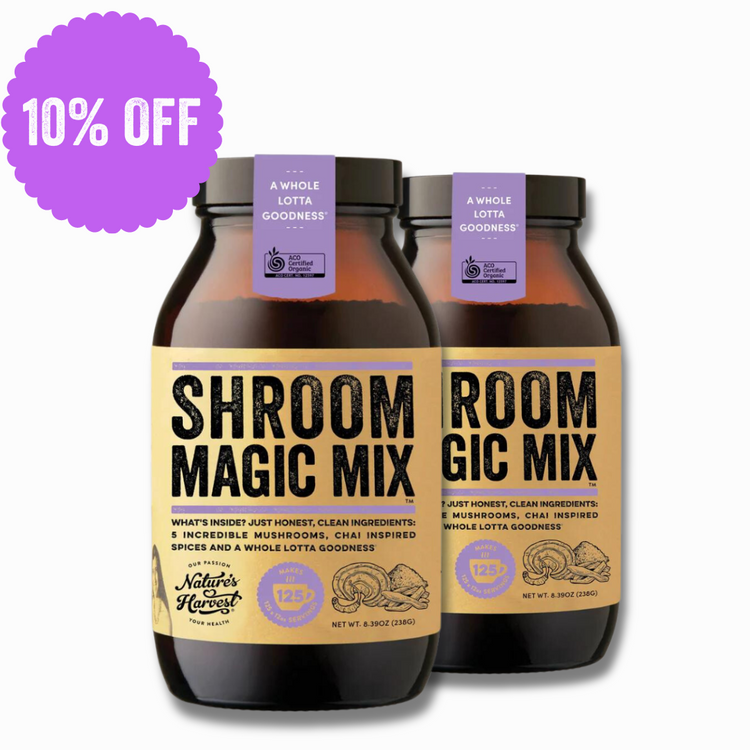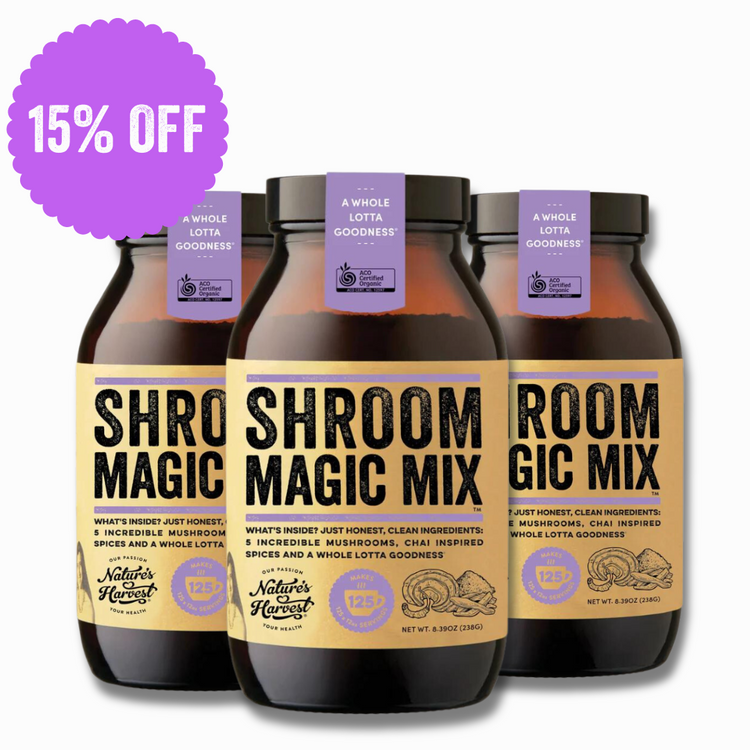 + Functional Benefits
Enhanced mental clarity and restful sleep
Improved exercise performance and recovery
Balanced digestion & immune health
Product Quality
✔ Concentrated real mushroom
✔ 100% Fruiting body (No filler grains, no mycelium)
✔ Highest quality turmeric with 5% curcumin
✔ Up to 2000% increase in the absorption of curcumin with the addition of black pepper
✔ We only use TRUE cinnamon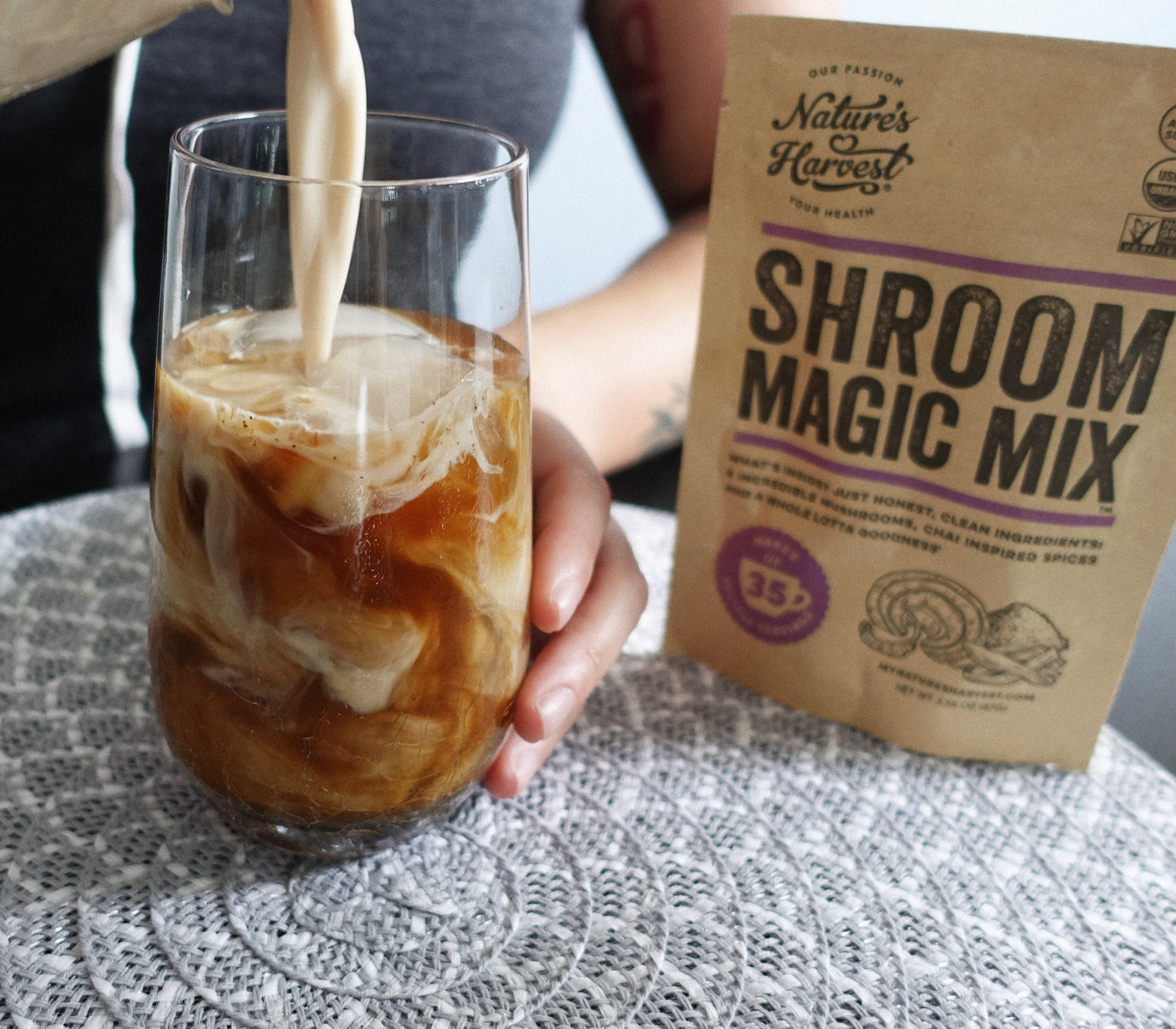 Clean As It Gets
✔ Highest Quality Organic Ingredients
✔ Third Party Lab Tested
✔ 100% Caffeine Free
✔ No Added Sugar
✔ 5 Calories per serve
✔ Vegan & Keto
✔ Gluten Free
Wholefood Ingredients
Lions Mane

Lion's Mane has been studied to enhance mental clarity, clear up brain fog, protect brain function, boost mood and promote overall wellbeing.

Reishi

Reishi may be able to do it all... restore balance to both body and mind. It is traditionally used to reduce stress and anxiety and encourage better quality sleep PLUS support a healthy immune system.

Turkey Tail

Restore & invigorate! Research shows Turkey Tail feeds beneficial gut bacteria, prevents infections, regulates cholesterol, and combats stress.
Chaga

Energy & vitality! Chaga has properties that improve athletic performance, endurance and sustaining your daily energy levels. This antioxidant powerhouse can restore gut health and promote healthy glowing skin.

Cordyceps

Cordyceps mushrooms help give your immune system the best support and are traditionally used to improve physical performance, encourage vibrant healthy skin and fight fatigue!

Black Pepper

Enhances nutrient absorption and bioavailability of turmeric, so you get to reap all those anti-inflammatory benefits!
"True" Cinnamon

Researched to improve some key risk factors for heart disease and balances blood sugar levels to curb sugar cravings.

Whole Ground Vanilla

Vanilla has been used for centuries and regarded as a 'superfood' for enhancing mood and brain health.

Chili

Pair text with an image to focus on your chosen product, collection, or blog post. Add details on availability, style, or even provide a review.
Ginger

Traditionally used to relieve nausea plus is an anti-inflammatory to help reduce muscle pain and lower risk of infections.
Small Business, Big Mission
Good for you
We care a lot about the ingredients: where they are sourced, never any added sugars, additives or any artificial flavors.
Good for the community
Part proceeds provide scholarships for youth to attend programs that literally save lives. Our manufacturing partnership with Westcare (a not for profit) means employment for people with special needs in the community.
Good for the planet
We only use the highest quality ingredients sourced from organic certifed farming communities around the world.
If you're happy, we're happy.
Money Back Guarantee
We understand sometimes it's just not your cup of tea.
We offer a satisfaction guarantee on our 35 serving packs.
Email us and we'll give you a 100% refund!
Frequently Asked
How Do I Prepare it?

To make up Shroom Magic Mix, simply add 1/2 - 3/4 tsp. Shroom Magic Mix to 12 oz. of your favorite hot or cold milk or milk alternative. Stir well and add sweetener if desired!

Want to mix it up a different way? Check out our recipes page for a variety of delicious ways to use Shroom Magic Mix!

Here is how one customer mixes up her cup of goodness :)

"I add a pinch to teas, coffee, even just plain hot water!! It's delicious!"
Does it have the mycellium part of the mushroom?

We only use 100% fruiting body. No filler grains or mycelium. Our mushrooms are dual water extracted. Which means they are concentrated real mushroom only.
Does this taste like mushrooms?

Shroom Magic Mix has a unique, chai-inspired blend of spices that makes for a delicious, slightly spicy, invigorating cup of magic. The mushrooms bring a grounding earthiness, ginger and chili bring a vibrant warmth, and vanilla some natural sweetness!

You don't have to take our word for it though, let's hear what real customers have said about the taste:

"The funny thing is, it contains mushrooms ....I don't even like mushrooms. I don't eat mushrooms. But, I love this drink! Go figure! What I love best about it is all the flavors that jump out, from the spices and mushrooms, mixed with my coffee, a touch of milk and coconut sugar. Wowie.......The flavors are like a chef made coffee drink, so elevated!"
What is the main ingredient in this product?

Shroom Magic Mix contains 950mg of total concentrated mushroom extract per serve . The product also contains 9 spices including turmeric, cradamom, vanilla and true cinnamon.
Can I mix this product with other beverages or foods?

Yes you can add it to hot water, juices, smoothies, hot chocolate, coffee, milk, oatmeal, popcorn, soup, cookies and muffins.
Is this product vegan or gluten-free?

Yes vegan and gluten free certified.
Does this product contain any sweeteners?

We never add any sugar or sweetners to our products so you're empowered to choose.
Why Is It Good For Me?

Maybe you're thinking... why mushrooms? Well, these mushrooms have been used traditionally and currently being studied for a number of health-promoting properties, including improving mental clarity and increasing mental focus, improving athletic performance and endurance, supporting a healthy immune system, combating stress hormones and promoting better quality sleep. Sounds magical!

It is definitely a whole lotta goodness :)
Does this product provide a decent amount of energy? I'm looking for a natural alternative pre-workout for my morning workouts.

Mushrooms may support to improve athletic performance and endurance. You can add it to your juice, smoothies, coffee, hot water, milk or oatmeal. Click here for more recipe ideas.
Does this contain caffeine?

There is no coffee or added caffeine. You're empowered to add the product to caffeine so its suitable day or night.
Is this a coffee-free coffee alternative?

Yes. There is no caffeine so you're empowered to add to coffee when you choose to and consume day or night.
Is this product tested for toxins?

Yes, We check that our farmers have proper, up-to-date third party certifications and provide comprehensive product information forms containing detailed specifications for product safety conformity.
Ingredient testing includes heavy metals, pesticides, organoleptic & macroscopic Quality, microbial quality, mycotoxins, allergens, potency Testing i.e. >5% cucumin for turmeric & beta glucans for mushrooms.
Why Nature's Harvest?

We create products that are good for you, good for the community and good for the planet.
Is this safe to use during pregnancy or while breastfeeding?

We recommend you check with your doctor if you are pregnant or breastfeeding.​​
Are these kosher?

Our Shroom Magic is not kosher but our other products are.